Σελίδα 1 από 2
Bilgi Furkan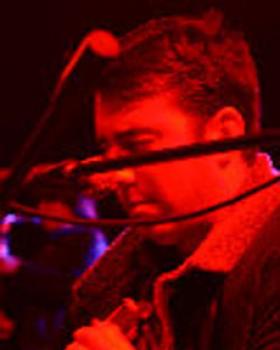 Furkan Bilgi was born in 1979 in Adana. He finished his elementary education in Ankara and Istanbul. He entered in I.T.U National Conservatory. He attended concerts with Cinucen Tanrikorur in 1994. He played for famous artists such as Sytky Sezgin and Aleaddin Yavaca. He gave duo concerts with famous Tanbur player Murat Salim Tokac. He gave concerts in Italy, Spain, Sweden, Greece, Germany and Belgium with whirling dervishes. He played as soloist with Bremen Postdam Philharmonic Orchestra. He gave kemencha recitals with famous Kanun Player Halil Karaduman. He became part of a music group "YENY TURKU" in 1997.
Enguller Emrullah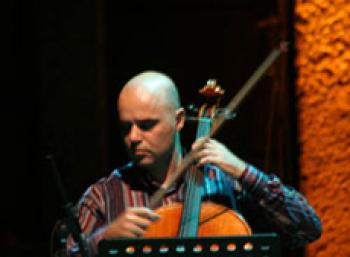 Emrullah Enguller was born in Istanbul in 1967. After completing his high school education in Bandyrma, he entered Istanbul Technique University Turkish Music Conservatory. He worked as violoncello player respectively in Istanbul University and Istanbul Radio, Bursa Classic Turkish Music choir. He had a part in many concerts with world famous musicians. He continues his artistry in Culture and Tourism Ministry Istanbul National Turkish Music Choir. He gave concerts in USA, Japan, Germany, Holland, India, Estonia, Syria, Qatar, Tunisia, Slovakia, Greece, Georgia, Hungary, France, Sweden and Austria.
Erdodular Ahmet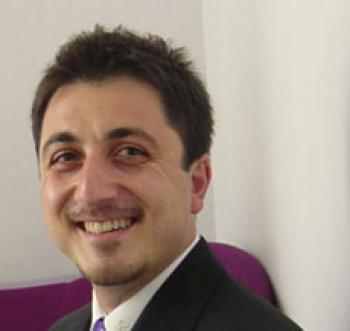 Ahmet Erdodular started studying music at an early age with his father, neyzen Omer Erdodular, and continued his musical development with the guidance of the renowned musician Niyazi Sayyn. He participated in various concerts as a lead singer while still a teenager. Ahmet holds a BA degree from the Istanbul Technical University State Conservatory where he also completed his Masters degree in Turkish Classical Music under the guidance of Professor Alaeddin Yavaca. He specialized in Turkish gazel (improvisation) technique, while his academic research is on the use of music and poetry in gazel forms of the late Ottoman period. Ahmet studied makam and improvisation techniques with Niyazi Sayyn, Necdet Yaar and Kani Karaca, and performed with them in Turkey and around the world. Ahmet also studied and performs Sufi musical repertoire that over centuries integrated spiritual practice and artistic expression. Those include the naat in Mevlevi ayins, as well as ilahi and kaside, as essential components of the Sufi zikir. Ahmet Erdodular participated in various festivals in Europe, Asia and the Untied States performing both Ottoman classical and Sufi music. He gave lectures, seminars and taught workshops in places such as Bosporus University in Istanbul, the Boston Conservatory, Sufi Music Retreat in San Francisco in the United States, and Labyrinth Musical Workshop in Greece. Ahmet worked at the Turkish Radio as soloist, recorded a number of music program series for different television companies, and is frequently featured in the Turkish Radio Television TV music programs. Ahmet Erdodular plays tambur and percussion and devotes his time to performing and teaching Ottoman Turkish classical music.
Erdodular Omer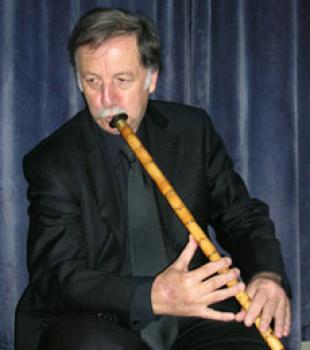 Omer Erdodular started studying music while still a child, initially learning ney from his father. In 1965 he began studying with Umit Gurelman, and soon after started lessons with Niyazi Sayyn, which continued for many years. In the following two decades, he participated in many radio and TV programs, orchestras and concerts, in a period when ney just began to be rediscovered in Turkey. For many years he researched the techniques of Tanburi Cemil Bey through archive LP recordings, reflecting the musical makam qualities and a particular playing style and sound of Cemil Bey's improvisations onto the ney. In 1980 he first appeared in concert with the famous soloist Bekir Sytky Sezgin, and from then on played in most of his concerts. From 1984 to 1987, Omer Erdodular was a neyzen in Ministry of Culture's Classical Turkish Music Chorus. He made several recordings, among them with Bekir Sytky Sezgin, tanburi Necdet Yaar and Kemencevi Yhsan Ozgen. In 1987 he became a member of the Ministry of Culture's State Classical Turkish Music Ensemble founded by Necdet Yaar of which he is still an active member. As a soloist, a member of the State Classical Turkish Music Ensemble and also the Necdet Yaar Ensemble, Omer Erdodular performed around Turkey and in Europe, United States, Japan and the Middle East participating in various festivals, concerts and recitals. He devotes a significant amount of his time to teaching, both in Istanbul, Turkey like the Turkish Classical Music Camp, and in seminars abroad such as the annual Labyrinth Musical Workshop in Greece, Makamhane in Austria and the Sufi Music Retreat in the United States of America.
Erol Tanju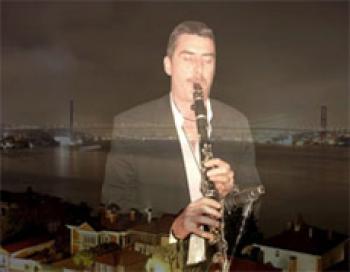 Tanju Erol graduated ITU Turkish Classical Music National Conservatory in 1985. He had his master degree from Istanbul University Social Science 1987. He started to work as solfege, theory and repertoire teacher in ITU Fine Arts and also ITU Turkish Classical Music National Conservatory as clarinet teacher. He worked for Turkish Radio Television as Clarinet player. He completely transferred his own staff of musicians and had a permanent position in TRT. During his teaching years, he had many of today s famous Clarinet players as his students. He attended many concerts as Clarinet Player or maestro. He composed many songs and his book is being taught in many universities around the world.
Karaba Demir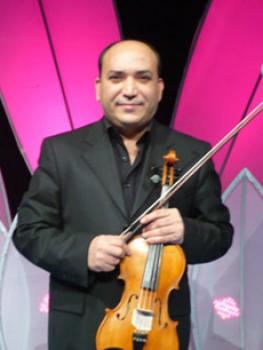 Demir Karaba was born in 1962 in Canakkale, Turkey. While finishing his primary school in Ankara, he got acquainted with the Violin family, from whom he took his first lessons in music. In fact, Demir Karaba had his first lessons in the theory of music and solfege under the instructions of the distinguished Ismail Oytun of the Turkish Radio and Television (TRT). At the age of 14, he continued lessons in the theory of music and solfege having as a teacher Turhan Toperi of TRT. He also studied with Cinucen Tanrykorur, Ekrem Vural and other renowned musicians. In 1979, he was hired by TRT of Ankara. A little later, he started teaching at Hacettepe University and from 1990 to 2000 he lived in Istanbul, where he continued his work with TRT of Istanbul. He has given many concerts in Taiwan, Holland, Japan, the Arab World and in Turkey and has worked and performed with many well-known musicians from all over the world. In 2002 he returned to Ankara and continued working at the TRT, where he worked on composition, having the opportunity to present his work at the TRT. He has been tutoring as a violin teacher.
Karaduman Ηalil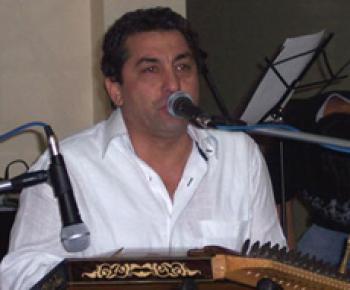 Halil Karaduman was born in 1959 at Urfa Birecik. He grow up in Gaziantep after 1 Years old. He started to learn playing kanun and get music lessons from his father who is also a kanun player. After he finished his high School in Gaziantep he came to Istanbul in 1977 to study in Ystanbul Technical University State Conservatory. He graduated with the honor degree. After he came to Istanbul he held place in production world as music director, composer and player. He worked with the most famous artists both for their recording works and their live performances (Zeki Muren, Bulent Ersoy, Muzeyyen Senar, Ybrahim Tatlyses, Sezen Aksu and Zulfu Livaneli). At recent years following his worldwide concerts with Zulfu Livaneli he worked with different orchestras and musicians abroad. As a result he had many kanun students from USA, Greece, Jordan, Tunisia, Lebanon, Syria and other countries. He is already giving lectures at conservatories of these countries and attending special concerts and seminars. He has recorded 3CDs in Turkey, 1 in USA and 2 in Greece. The artist who built a new school of kanun playing had also released a Kanun Playing Method. He also worked with lyrics. Some of these are Devlerin Aky, Ruyalarda Buluuruz, Kutupta Yaz Gibi, Leyla, etc. Some of the artists and musicians that he worked abroad are Mikis Theodarakis, Maria Faranduri, Geora Faidman, Al di Meola, Habib Chan and Lizbeth List.
Tokcan Yurdal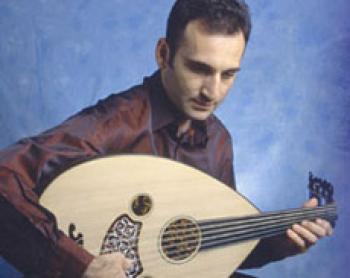 Yurdal Tokcan is being regarded as one of the finest oud players in the world today by many music authorities. His style combines older traditions with many new stylistic innovations, which are also present in his playing of the fretless guitar. His many new compositions combine traditional rich melodies with polyphonic textures performed on Turkish classical instruments. Tokcan was born in Ordu on the Black Sea cost of Turkey in 1966. He is a 1998 graduate of Istanbul Technical University's Turkish Music Government Conservatory. While completing his master program there, he joined the faculty as an oud instructor. Tokcan continues to teach, sharing his knowledge, experience, and technique with Turkish and foreign students. In 1990, he joined the Culture and Tourism Ministry's Istanbul Government Music Ensemble under the artistic direction of Tanburi Necdet Yasar. As a member of this ensemble, Yurdal performed in France, Holland, Belgium, and Spain. He is a member of the Istanbul Fasil Ensemble and the Istanbul Tasavvuf Music Ensemble, and a founding member of the Istanbul Sazendeleri (Musicians of Istanbul), a group dedicated to presenting Turkish instrumental works. Tokcan has participated in many recording sessions and has performed internationally, in Germany, France, Belgium, Netherlands, Spain, Greece, Japan, Turkey, Israel, Tunisia, Lebanon, USA, Bosnia, and Northern Cyprus. As a soloist, Tokcan performed in the Netherlands with the Amsterdam Percussion Group and Chamber Orchestra in a program titled "European Music Around Oud", and with the Tekfen Philharmonic Orchestra in Turkey, the United Kingdom, France, Germany and Belgium. Tokcan joined Burhan Ocal (percussion), Goksel Baktagir (kanun), Selim Guler (kemence), and Arif Erdebil (ney) in a French concert, the recording of which won the 1998 "Best Ethnic Album" in France. Tokcan has played in many of ney virtuoso Kudsi Erguner's ensembles, both in Turkey and abroad. He performed in Israel with Group Baharat and with long time collaborator, kanun player Goksel Baktagir. Recently, Tokcan has been recording and performing with Israeli Ladino artist Hadass Pal Yarden. His work can also be heard on "Bende Can" (Inner Soul), an album of his original compositions. Tokcan represented Turkey in several international festivals and celebrations, including the 3rd International Oud and Lavta Festival in Dresden, Germany and the 2002 International Oud Meeting in Thessaloniki, Greece (along with oud players Ara Dinkjian, Simon Shaheen, Haig Yazdjian, and Omar Bashir).